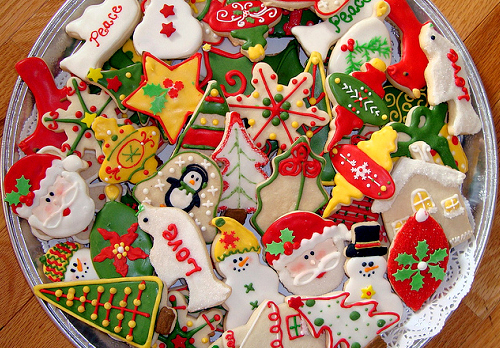 OH, CHRISTMAS COOKIE, OH CHRISTMAS COOKIE, HOW LOVELY ARE THY SPRINKLES…
I can't think of anything yummier than a plate of warm, sweet smelling Christmas cookies! You don't think that Santa comes JUST to deliver presents, do you? He's after that plate of warm, spicy gingerbread men and frosted cookies sugar cookies shaped like his face!
Christmas cookies can trace their history to recipes for Medieval European biscuits, when many modern ingredients such as cinnamon and ginger were introduced to the West. Speaking of cinnamon and ginger, making gingerbread men as well as other types of people-shaped biscuits became popular in the 1500s. In fact, Queen Elizabeth the First had gingerbread cookies made to look like her important dinner guests. People-shaped biscuits were not the only figure cookies being made at the time. Germans began making three shaped cookies and hanging them on trees. Later, in the 1800's, people in the United States began using cookie cutters to shape cookies meant to be hung on the Christmas tree.
I'm going to share my own mom's recipe for the most, melt in your mouth, buttery, frosted sugar cookie that you'll ever have. They're too good to hang up on a Christmas tree, but take a queue from Queen Elizabeth the First and shape them into the image of your friends, family or even your teacher!
Send us pictures! We'd love to see what you come up with!
MY MOM'S BEST SUGAR COOKIES
INGREDIENTS
½ cup PACKED BROWN SUGAR
½ cup GRANULATED SUGAR
1 cup (two sticks) of UNSALTED BUTTER, softened
1 tsp of VANILLA
1 EGG
2 ½ cups FLOUR
1 tsp CREAM OF TARTAR
½ tsp SALT
1 tsp BAKING SODA
DIRECTIONS
Preheat oven to 350 degrees.
In a large mixing bowl, sift together, flour, cream of tartar, salt and baking soda. Set aside.
In a different large mixing bowl, cream together both sugars and butter.
Add egg and vanilla to the sugar mixture. Mix well.
Gradually stir into the dry ingredients.
Chill dough for an hour.
Roll out to ¼" thickness and cut into shapes.
Place onto a greased or parchment-lined baking sheet.
Bake for 10 minutes until lightly golden.
Remove from baking sheet and cool on a wire rack before frosting and decorating!
VANILLA BUTTERCREAM FROSTING
INGREDIENTS
1 cup (two sticks) UNSALTED, softened
3 cups POWDERED
1 tsp VANILLA
3-4 tbsp of CREAM
Pinch of SALT
FOOD COLORING, SPRINKLES, CANDIES, NUTS, etc. for decorating!
DIRECTIONS
Beat together butter, vanilla and powdered sugar, adding sugar one cup at a time so you don't make a huge mess!
Add cream one tablespoon at a time to desired consistency. (Hint: if it's too thin, add a little more sugar.)
Add a pinch of salt. (Hint: a "pinch" is three fingers; your thumb, pointer and your middle finger!)
Divide into smaller bowls and add food coloring, if desired. (Hint: Spoon frosting into small Ziplock bags and snip off one corner for easy piping!)