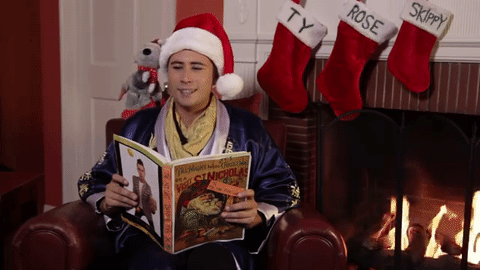 The night before Christmas is almost here – you know, the night when Santa comes down the chimney to drop off all the presents. He's always SO HUNGRY and looking for cookies, so this year I'm going to be prepared with a fresh batch of chocolate chips just for Santa (Rose and I will obviously have to taste-test a couple before we put them out). Instead of getting fancy, we are going to stick to the original classic, the Toll House cookie (recipe available here).
[note from Rose: The chocolate chip cookie was invented by Ruth Graves Wakefield, the proprietress of the Toll House Inn, in the 1930s when she had the idea to make a brand new cookie combining her famous Butterscotch Nut Wafers with chocolate. In 1939 Betty Crocker featured the recipe on her radio show "Famous foods from famous places" and the cookies took off. The recipe was featured on the back of Nestle's semi-sweet chocolate bars and the cookies have been a household staple ever since.]
Don't forget to enjoy your milk and cookies while reciting your own version of "'Twas the Night Before Christmas." My personal rendition, in printer-friendly form, can be enjoyed here.
Thank to The Toast for this in-depth history of the Toll House Cookie.