Obviously I LOOOOOOVE potato pancakes. My latest challenge – if I get 29 new YouTube subscribers in 8 days, I will eat 29 (!!) latkes in 5 minutes – really drives home the importance of a GREAT latke recipe. I'm pretty picky about my latkes, and my favorite latkes are from my Bubbie (thats's what I call my Grandma)  I swear, this is the best Latke recipe out there! My neighbor Hudson Hamentashen thinks his Bubbie's latke recipe is the best, but its not true.  So, in the spirit of giving and sharing, here it is for you to make your own "Bubbie's Potato Latkes" at your next Hanukkah party. I don't recommend eating 29 at a time, but they are delicious.
I also don't recommend dunking your head in applesauce (though I've never done it… yet). But if we get 50 NEW YouTube subscribers, I will have to try… SUBSCRIBE NOW if you want to see me eat too many POTATO PANCAKES and dunk my head in a bowl full of applesauce!
TY'S BUBBIE'S LATKE RECIPE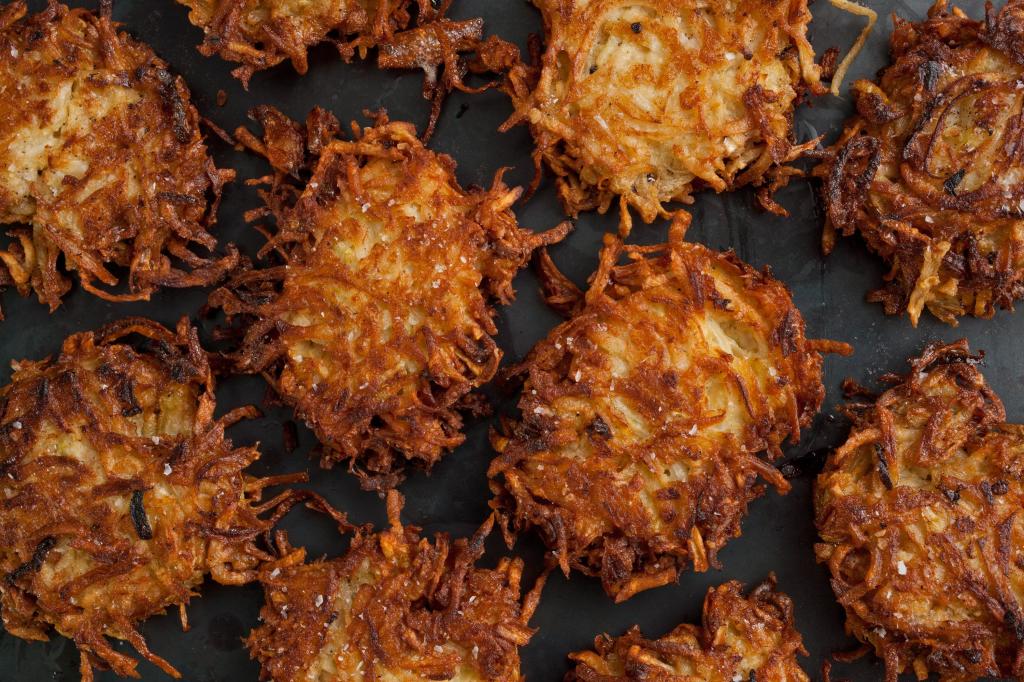 (This recipe involves a lot of chopping and frying in hot oil. Please make sure an adult supervises and provides assistance with some of the tougher steps.)
INGREDIENTS
4 LARGE BAKING POTATOES, peeled and grated with a box grater into shreds
2 LARGE ONIONS, sliced thinly
4 EGGS
1 tsp BAKING POWDER
2 tbsp FLOUR
SALT & PEPPER, to taste
approx. 1/2 cup VEGETABLE OIL
EQUIPMENT
VEGETABLE PEELER
BOX GRATER
ONION GOGGLES "LATKE LENSES" (optional, but helpful)
2 ABSORBENT KITCHEN TOWELS
LARGE MIXING BOWL
FRYING PAN or ELECTRIC SKILLET
DIRECTIONS
Take onion slices and shredded potatoes and spread evenly on a clean kitchen towel. Roll up the towel and squeeze out any liquid. (If you like your latkes super crispy, after wringing them out, place the potato shreds in the microwave for about 30 seconds on high. This cases the starches in the potatoes to form a gel. The latkes will crisp up quickly and absorbed minimal oil.)
In a large mixing bowl beat the eggs well with a hand mixer or a wisk. Add grated potatoes and onion slices. Combine so the egg coats the potatoes and onions (feel free to get your hands in there to ensure the egg coats evenly).
Mix in baking powder and enough flour so that the mixture has the consistency of very soft oatmeal. Season with a little salt and pepper.
Pour vegetable oil into a large frying pan. It should be about 1 inch deep. Heat on high until very hot (it should sputter when you flick a drop of water in it).
Lower the heat to medium. Using a soup spoon, take large scoops of batter and gently place in the frying pan. Do not overcrowd the pan.
When the undersides are browned, about 5 minutes, flip and cook until the other side is also browned, also about 5 minutes.
When latkes are done, place on a baking sheet lined with paper towels to cool.
Enjoy dipped in applesauce or sour cream, your choice!