On a hot day, there's nothing I love more than whipping up a batch of green slime avocado ice cream. And it's SO EASY to make. Here's how:
INGREDIENTS
1 FROZEN BANANA*
1/2 AVOCADO
1 tbsp VANILLA EXTRACT
juice from 2 LIMES
optional: CHOCOLATE CHIPS
DIRECTIONS
Combine all ingredients in a blender and mix until smooth. Chill in the freezer for an hour. Sprinkle with chocolate chips if desired.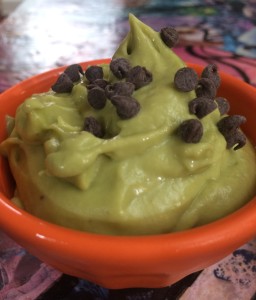 While you're waiting for the ice cream to chill, I recommend singing the AVOCADO ICE CREAM SONG:
In the summertime
When it's hot
There's something I like to eat a lot
It's not watermelon
It's not lemonade
It's not mango
It's not peach parfait
Just take vanilla
Banana
Avocado
And lime
(Repeat)
That's right vanilla
Banana
Avocado
And lime
Then freeze it
Mix it up
Don't be shy
It looks like slime but tastes like paradise
Avocado ice cream, that's what it's called
And it's the greatest treat at all
Just take vanilla
Banana
Avocado
And lime
(Repeat)