In honor of Valentine's Day, the holiday of looooove, I have some very special guests from The Kitchen Decoded here to teach us some heart-shaped recipes. For more from The Kitchen Decoded, pick up their new cookbook chock full of easy and clever recipes just like these. -Ty
MAC AND CHEESE HEARTS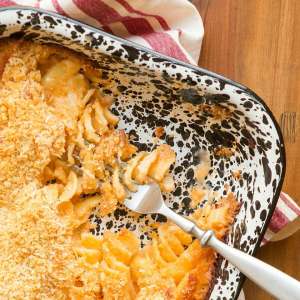 First make your favorite mac and cheese recipe.
CHEESE DRAWER MAC AND CHEESE is my favorite.
Then bake them in heart shaped molds:
I co-founded the blog, We Heart Mac and Cheese and began a two-year odyssey in which I survived mainly on cheese and noodles. While I can't say it was great for my health, it did make me a veritable expert on the dish. The main drawback of my "research" was that I'd end up with a lot of scraps but not enough to replicate a recipe. One day, I decided to make a dish using all the leftover cheese in the drawer and Voila! Cheese Drawer Mac and Cheese was born. This mac blows everyone away with its creamy nuttiness from the Gruyere, tang from the extra-sharp Cheddar and smoky Gouda accents. The butter cracker topping gives each bite a light crunch. Tell your guests to wear their stretchy waistband pants because this mac and cheese is so insanely good and decadent, they'll want to eat at least two helpings. – Hilary
Serves: 6–8
Prep Time: 20 minutes
Cook time: 40 minutes
Helpful Tools: food processor with shredding blade and chopping blade, kitchen scale, zester/grater, whisk, small sauce pan, large sauce pan, stock pot, colander, 9-x-13-inch baking dish
INGREDIENTS
10-ounces MACARONI, RIGATONI OR FUSILI (any small pasta noodle will do)
¾ cup EXTRA-SHARP CHEDDAR*, grated
½ cup GRUYERE, grated
½ cup SMOKED GOUDA*, grated
2 tbsp PARMESAN CHEESE, grated
2 cups 2% MILK
¾ cup HEAVY CREAM
¼ cup ALL-PURPOSE FLOUR
3 tablespoons UNSALTED BUTTER
¼ teaspoon CAYENNE
⅛ teaspoon NUTMEG, ground or grated on a Microplane
⅛ teaspoon PEPPER
1 teaspoon KOSHER SALT
10 small BUTTER CRACKERS
4-ounces PARMESAN CHEESE, grated
DIRECTIONS
Preheat oven to 350 ºF.  Grease 8-x-8-inch baking dish with butter.
In a food processor with the shredding blade attached, place the blocks of cheese through the large feed tube and push down with the large pusher. Turn the machine ON and the cheese will shred into the work bowl.
In a small sauce pot, over low heat, warm the milk and cream but not bring to a boil.
In a separate, larger pot, melt the butter over low heat, do not burn. Add flour to butter and cook for one minute until the flour breaks down and creates a paste. Slowly add in the milk/cream mixture to the butter/flour mixture, whisking like crazy for 8–10 minutes until it thickens and resembles a cream sauce.
Remove saucepan from heat and stir in all the cheese except the 4-ounces of grated Parmesan reserved for the topping, salt, pepper, cayenne, and nutmeg. Set aside.
Fill a 6–8 quart stock pot with water and bring to a boil. Add the10-ounces of pasta. Cook for 3–5 minutes until pasta is al dente, a bit softened but still crunchy. Use a colander to drain noodles and rinse in cold water. Add noodles to cheese sauce and stir well.
To make the topping, in a food processor with the chopping blade, grind crackers and 4-ounces of Parmesan cheese together into crumbs.
Transfer cheese and noodle mixture to
heart-shaped silicon molds
and cover liberally with crumbs/cheese topping mixture. Bake for 30 minutes until the top is golden brown. Serve warm.
TRICK: Be sure to use SMOKED GOUDA and EXTRA-SHARP CHEDDAR CHEESE to amp up the rich, tangy flavor of the dish.
And for desert… BUTTERCAKE BAKERY CHOCOLATE CAKE!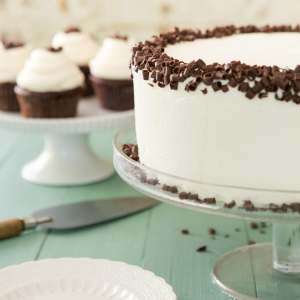 This cake was the most popular flavor at Buttercake Bakery. It's delicious with the Buttercream Frosting or the Dark Chocolate Frosting. But my family requests their birthdays cakes frosted with Cream Cheese Frosting. -Logan
Makes 1(9-inch) double layer cake or 24 cupcakes
Prep Time: 15 minutes
Bake Time: 20–25 minutes
Helpful Tools: stand mixer with flat beater, mixing bowl, 2 (9-x-9-inch) round cake pans or if making cupcakes use 2 (12-cup) muffin tins, paper liners and a (2-inch) ice cream scoop, spatula
INGREDIENTS
1½ cup CAKE FLOUR*
¾ cup NTURAL UNSWEETENED COCOA POWDER (not hot chocolate mix)
1½ tsp BAKING POWDER
½ tsp SALT
1 stick plus 3 tbsp UNSALTED BUTTER, room temperature
1¾ cup GRANULATED SUGAR
2 LARGE EGGS, room temperature
1 tsp PURE VANILLA EXTRACT
2 cups SOUR CREAM, room temperature
DIRECTIONS
Preheat oven to 325 ºF. Butter and flour cake pans, or line cupcake trays with paper liners.
In a small bowl, combine the cake flour, cocoa powder, baking powder, and salt and set aside.
In a stand mixer, cream the butter and sugar on low (speed 2) and gradually increase speed to medium (speed 4) until mixture is pale and fluffy. With mixer on low (speed 2) add the eggs and vanilla and combine. Use a spatula to scrape down the sides and bottom of bowl. With the mixer on low, alternate the dry ingredients with the sour cream (dry, wet, dry, wet, dry) in several batches. Use a spatula to scrape the sides and bottom of the bowl after each addition.
Divide the batter evenly between the two cake pans, or use the ice cream scoop to fill the cupcake tins. Bake the cakes for 25 minutes or 20 minutes for cupcakes, until a toothpick comes out dry.
Once completely cool, frost with your choice of frosting and serve.
*TRICK: CAKE FLOUR is a finer grind than all-purpose flour, it helps make cakes light and fluffy. You can find cake flour in most supermarkets or you can make your own. To make your own, start with 1 cup of all-purpose flour. Remove 2 tablespoons of the flour and replace it by adding 2 tablespoons of cornstarch. Mix and it's ready to use.
BUTTERCAKE BAKERY BUTTERCREAM FROSTING
Half & half makes this recipe much more decadent and delicious which is exactly what you want in a buttercream frosting.
Makes: enough for 24 cupcakes. Double the recipe to frost a double layer 9-inch round cake.
Prep Time: 15 minutes
Helpful Tools: stand mixer with the flat beater attachment, sifter or mesh colander
INGREDIENTS
1½ sticks UNSALTED BUTTER, room temperature
5 cups POWDERED SUGAR,*sifted
¼ cup HALF & HALF
½ tbsp PURE VANILLA EXTRACT
DIRECTIONS
In the stand mixer, add all ingredients and mix on low (speed 2) and gradually increase speed to medium (speed 4) until mixture is light andTRICK:  We love to use a mesh colander to sift ingredients. Just place the powdered sugar in the colander and use a large serving spoon to push the sugar through into the bowl to remove any clumps.
Decorate your cake with all the pink raspberries and candy hearts you can find!